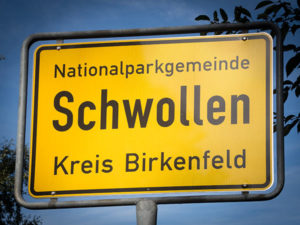 Schwollen is a recognized tourist destination. The village has about 500 inhabitants and is 410 meters above sea level (NN). Schwollen is located on the edge of the Hunsrück and therefore offers great opportunities for extensive hikes. The new Sirona path, which is located in the immediate vicinity of our house, offers the best possibilities. In the town itself there are several commercial mineral springs – one source, the Sauerbrunnen, is accessible to guests.
In the church of Heiligenbösch on the edge of the forest, there is a Roman bath, which can be viewed under pre-registration. If you want to go to Schwollen for a cozy meal, the Landgasthaus Böß is at your disposal. For the cozy breakfast at home you should not miss the bread rolls and the bread of our bakery Hoffmann.
In the village there is a children's playground with slide, swings, seesaw and sandpit. The swimming pool Schwollen is also available during the summer months.
More information about the resort can be found at www.schwollen.de